Yup, today,June 10th, was my Gotcha Day, Fourteen year ago, I was gotted by my boss-boy as an early birthday present, his birthday wasn't till October...but since it was summer time, that was better timing as far as getting me...so...Happy Gotcha Day to ME! BOL!
Cooper and his talented furmily from Dogster sent me a Gotcha Day Card: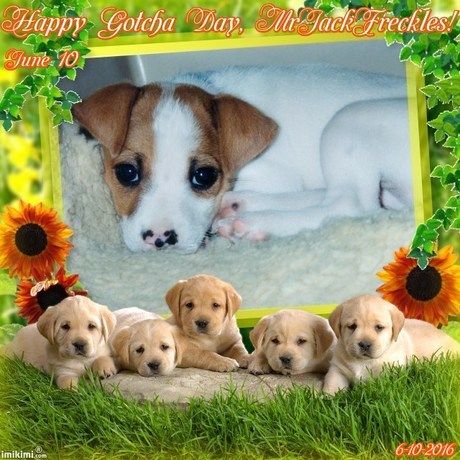 Thanks so much Cooper and furmily!
Sheesh, I was teeny weenie then, OMD!I weighed 2.5 pounds, and fit in growlmy's hand...
I did not 'do' anything too special today, but growlmy did not leave our den at all. So I got to help her with chores in the den and outside too. I love it when she stays home:)
I did get some yummy yogurt; Charlie (from Down Under) thought I should get ice cream...but there is not any of that in our den anymore...not for a couple years already.
Growlmy is getting ready to work this weekend...and then on the 13th it will be pawppy's barkday...oops, I mean birthday, BOL! Pawppy has to go to his work all day and a meeting after his work hours and growlmy asked him if he wanted to do something together after that, but he said no, He just wanted to come home and relax with a nice home cooked dinner and his furmily around him...that would be me and my kitty brofurs, BOL! The unfurbros cannot come by, due to distance and other junk, but they will call pawppy and talk on the phone or leave text messages...sheesh, what a world we live in. The whole furmily of peeps will likely share a special meal later when they can all get together, that means that I will have to do yard guard duty and snoopervise the kitties...Hmmm...
Now I know that growlmy has some nice wine in her pantry...good thing she is off on June 13th...and the next day as well, BOL!
And this is how I do Yard Guard Duty:
See ya!!
Woofs!!
Please note that now I am
HERE
, in a combined blog with my kitty brofurs.
Its called:
Meezer's Mews & Terrieristical Woofs
I hope you will visit me there and have fun adventures in Bloggerland with all of us:)