The petcretary has been working all the days of this long weekend. So because of those time constraints she decided it would be OK to post some memories of us as we commemorated Memorial day in the past. Some of you may have seen these pics already...so you are having a chance to see them again, and some of you have not seen these at all...but we hope you all will enjoy them anyways!
From 2010, wow my furs were a lot brighter then, BOL!
Where the petcretary works it is always busier on those special times such as holidays. So there will be more visitors for the residents to enjoy, and a picnic too:)
They had a remembering of service men and women a few days ago.
It has been hot here, and some peeps had storms but not here. We did have strong winds though.
We had about 3/4 inch of rain in the past week..all at once. That is not really enough moisture, and even our grass is turning brown.
A few days ago, (May26th), our angel furblings, Simba and Toki had birthday remembrance days. The petcretary received some nice mementos to help celebrate those days, from Manytoes, Tundra , Lynzee and Rory. They are good furends from our Catster/Dogster days. They have some fun doggies too:), including Cooper, another JRT!
Thanks, Manytoes, Tundra , Lynzee and Rory.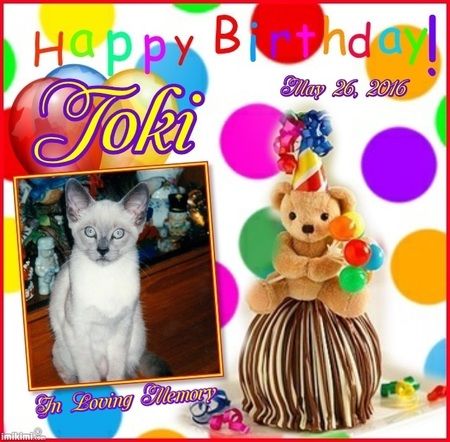 Thanks, Manytoes, Tundra , Lynzee and Rory.
This was Simba as an adult kitty
And this was Toki
The petcretary didn't have a digital camera back then...so she doesn't have furry many pictures of these furry angels. They may look similar to Minko, but all three of them are as diffurent as night is to day, MOL!
We hope all of you have a safe and wonderful Memorial Day. Please remember to thank those who have served selflessly for us to have the freedoms we enjoy today.
Our Petcretary is Canadian, Pawppy is American, So we are patriotic for all our armed Forces no matter where they came from, they are defending our freedoms, even still today.